The Must-have Apps You Should Have on Your New MacBook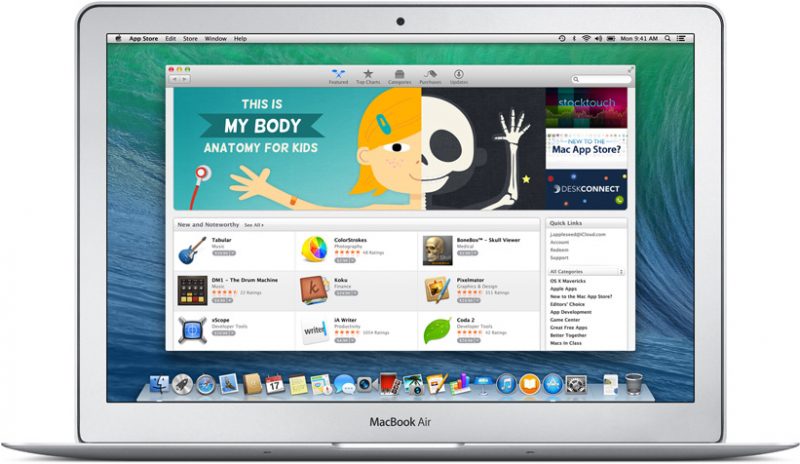 Everyone knows that the MacBook is an amazing computer to own all on its own, but when it comes to MacBooks, half the fun of owning them is apps. Apps can transform your MacBook from a work machine to one that is purely for fun and entertainment. If you don't want to miss out on the amazing apps that are out there in Apple Land, read on. I'm about to fill you in on the latest apps you won't want to miss out on based on customer votes. Here they are in no special order.
Pixelmator
The Pixelmator app is full of great features for editing images for the Mac. You can use it to touch up your images and make your sketches and images even better. It's full of innovations that make it easy to make your digital images look better than ever before.
Google Chrome
Yes, you need Google Chrome! Google Chrome makes it easy for you to keep up with your web history across all your Apple devices. You can browse on your MacBook and your iPhone and use a shared history, which makes it easy to pick up right where you left off even on a different device.
Adium
Adium is an app that you can use for instant messaging on your MacBook. It is an open source app that can support a variety of different services such as Google Chat, AIM, MSN, and Facebook, just to name a few.
Evernote
Evernote is on handy app for taking all the notes you need. It helps you stay organized in your home and work life and you can download it for FREE in the App store.
Things
Things is an award-winning app that can help you reach your goals all on your MacBook. It has been completely re-thought to offer both power and simplicity. It is one of the top to-do apps for those who benefit from creating to-do lists.
Perian
Perian is an app that you can download from the Apple store for your MacBook that can be used for media. It makes it easier to view your media files and supports a wide variety of different types of media files. The best thing about this app is it is safe and free to download.
Skype
Skype is an app that is used for communication. When you install the Skype app you can make free Skype to Skype calls. Skype allows voice calls, video calls, and messaging. This app makes it easy to stay in touch with your contacts no matter where they are in the world.
iStats Menus
The iStats Menus is designed to make it easy to keep your Mac's stats inside of the Notification center. This app lets you monitor all the vital processes going on with your MacBook right from the menu bar. You can keep your eye on all the things you want to know about your Mac in one easy place.
1Password
If you are like most people, you have so many passwords to keep up with that it seems almost impossible. Because it's not secure to use the same password across all of your accounts for obvious reasons, most people have ten or more passwords they have to keep straight. This app makes it easy for you to store your password in a secure place that you can have access to. They are stored safely and securely using a password that only you know.
VLC
Do you play media on your MacBook? If so, you might want to consider downloading the VLC Media Player. It's a free app that offers a powerful yet efficient way to play different kinds of media.
Transmission
This is an app that might not be one that everyone benefits from, but it is a good BitTorrent client. It uses less resources than other clients.
TextMate for Mac
TextMate is an app that is a super versatile plain text editor. It won an Apple Design Award in August, 2006 by bringing Apple's approach to its operating systems to the world of text editing.
Growl
The Growl app is one that can be useful for displaying notifications. If you want to know what's happening with your other apps while you are multitasking, this app has you covered. If applications support Growl, it can send notifications.
OmniGraffle
Do you need an app to make it easy to create beautiful graphics? OmniGraffle might be just what you are looking for. You can try this product for free for two weeks to see if it serves your needs, but Apple fans seem to think it's pretty great already.
Dropbox
Dropbox is an app you can use to store uploaded files so you don't have to use up space on your Mac. You can also use Dropbox to share files with other people or to access files on a different device.
Coda
Do you need a web design suite that is not stuffy and full of things you don't need? Coda might be just what you're looking for. It is a one-window Web design app with just what you need. It's a powerful text editor that includes Panic Sync for FREE.
Virtual Machine (VMware Fusion)
You can actually run Windows within OS. With VMware Fusion, you will access a virtual environment to do so. It's a pretty neat prospect for Mac users who enjoy using Windows.
Quicksilver
This is an app that offers productivity for Mac. You can save yourself some time and be more productive using this app on your MacBook. It allows you to launch applications using keyboard shortcuts. It can study your habits and help you to be more productive and achieve better control.
These are just some of the apps that Apple fans suggest for other Apple users. There are many more that offer helpful tools that may benefit you, so you might consider doing some research to find apps specific to your unique needs.